April 2021 – March 2022 Season Programs
News
The TMSO 2021 Season Program
Kazushi Ono, Music Director, Tokyo Metropolitan Symphony Orchestra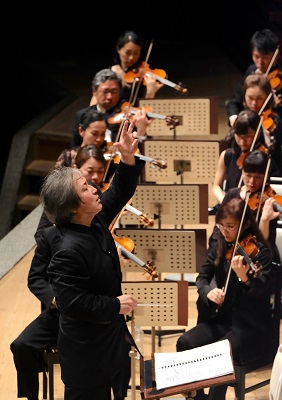 The unprecedented situation that has been causing havoc since last year has forced dramatic changes in the way we as humans experience music and other arts. Virtual events have become the expected mode of communication for performers, with increasingly creative and rich variations in their delivery. Yet at the same time, the deluge of online communication has also made us freshly and lucidly aware of how unequalled live music—performed in situ to bring performer and audience together under one roof—really is.
In June 2020, the Tokyo Metropolitan Symphony Orchestra (TMSO) wasted no time conducting scientific studies toward resuming live-audience performances, which we did in July after setting out our original guidelines and roadmap. The whole experience proved so enlightening it felt as if we were transported to a completely new realm. Embracing this cherished experience, the TMSO and I are extremely pleased to present the lineup for our 2021 season, which sets out to entice audiences to explore new horizons.
The 2021 season openers are from the oeuvre of Gustav Mahler: his breakthrough work as a composer, and his late masterwork. When he was writing his very first major orchestral piece, Mahler truly dawdled over the decision as to whether to make it a symphonic poem or a symphony. The piece has all the chaos one would expect from a first symphony, interspersed throughout as it is with sounds from nature and secular dance music as well as extracts from his own Lieder eines fahrenden Gesellen and featuring a Funeral March that incorporates both a French folk song and klezmer music (instrumental music traditionally played by Jewish communities on social occasions), complete with cymbals and bass drum. But what gradually emerges out of this melting pot are tears of passionate love, a homecoming to await death, and celestial sounds, all culminating in a spectacular musical body that can be likened to a nutshell version of the trajectory of Mahler's own music, in the sense that both materialize after long periods of maturation. From his Symphony No. 1 (1888) to Das Lied von der Erde (1909), Mahler's 20-year-long journey was that of a composer "simultaneously maturing and decaying"—something we might ponder as we follow the young hopeful "wayfarer," whose sentimental wanderings ultimately take him to the final section of the Sixth Movement of Das Lied von der Erde, where he sings, "I will never wander far. Calm is my heart, awaiting its hour."
Expected in October is a concert performance of an excellent opera written by Alexander Zemlinsky based on an Oscar Wilde tale. The concert is part of a project celebrating the 150th anniversary of the birth of the composer, who was significantly influenced by Mahler. February will see performances of major works by Dmitri Shostakovich and Benjamin Britten rescheduled from 2020, hopefully to a better time and place, plus the Japanese premiere of new work by Mark-Anthony Turnage, presenting an impressive lineup of orchestral masters.
A 2021 season highlight conducted by TMSO Principal Guest Conductor Alan Gilbert is the program centering on the respective Symphony No. 7s by 20th-century Swedish masters of symphonies Allan Pettersson (July) and Anton Bruckner (March). The Pettersson No. 7—the piece that made the composer's name—in particular is a work close to Gilbert's heart and one that he has conducted on a number of occasions. The lush melody and crystalline harmony of the piece guarantee a deep emotional impact on the listener. Equally enthralling will be the performances conducted by TMSO Honorary Conductor for Life Kazuhiro Koizumi of compositions by Arnold Schönberg and Johannes Brahms (May), and Arthur Honegger and Gabriel Fauré (June). This fascinating selection explores the juxtapositions of tradition and innovation in the former, and between the tragic and blissful in the latter. Meanwhile, TMSO Conductor Laureate Eliahu Inbal is in all readiness to have us in awe with TMSO's eagerly awaited performance of Shostakovich's Symphony No. 13, "Babi Yar" along with a lineup of Hungarian masterpieces.
One of the elements of the 2021 season is TMSO's first ever performance under the baton of guest conductor Daniel Harding, who I am sure will take us all to new heights with his interpretation of An Alpine Symphony. Also guest-conducting the TMSO for the first time are: internationally spotlighted John Storgårds and renowned master Osmo Vänskä, who will bring Finnish masterworks to the season; Viennese master conductor Sascha Goetzel, who will present The Firebird; and Singaporean rising star Kahchun Wong, who will present Sergei Rachmaninoff's Symphony No. 2. Master musicians scheduled to perform with the TMSO this season include Tabea Zimmermann, Paul Lewis, and Nemanja Radulović. In addition, it is both remarkable and delightful that a great array of young Japanese musicians in their twenties are also slated to join our performances: Ayana Tsuji, who will be performing with Michiyoshi Inoue and is one of the world's leading young violinists; Mayu Ozeki, who will bring a performance of Max Bruch pieces to our Promenade Concerts; Coco Tomita, who will perform work by Alexander Glazunov; and, presenting his rendition of an Antonín Dvořák concerto, Haruma Sato, the first Japanese cellist to win 1st prize at the ARD International Music Competition. None of these performances are to be missed. Please also look forward to solo performances by TMSO musicians Yoshihiro Ando, who will be taking on Kalevi Aho's technically challenging Timpani Concerto, and Yusuke Yanagihara, who will be performing Carl Nielsen's Concerto for Flute and Orchestra.
I hope with all my heart that the TMSO will be able to present this season's concert calendar in the most complete way possible. This may well take longer than we envision, but TMSO members and I will be eagerly looking forward to meeting our audiences, and putting everything we can into each and every performance.
April 2021 – March 2022 Season Programs
(20 April 2021)
Subscription Concert A Series (Venue: Tokyo Bunka Kaikan; 19:00)

No.924


Tue. 20 April 2021, 19:00

Kazushi ONO, Conductor

Yoshihiro ANDO, Timpani
Kalevi Aho: Timpani Concerto (2015) [Japan Premiere]
Mahler: Symphony No.1 in D major

No.926


Mon. 10 May 2021, 19:00

Kazuhiro KOIZUMI, Conductor

Schönberg: Verklärte Nacht, op.4
Brahms (arr. by Schönberg): Piano Quartet No.1 in G minor, op.25 (Orchestral version)

No.929


Mon. 14 June 2021, 19:00

Kazuyoshi AKIYAMA, Conductor
Mayumi KANAGAWA, Violin

Sibelius: The Bard, op.64
Sibelius: Violin Concerto in D minor, op.47
Prokofiev: Symphony No.7 in C sharp minor, op.131

No.935


Mon. 27 September 2021, 19:00

Lawrence RENES, Conductor
Tabea ZIMMERMANN, Viola

Wagner: Overture to "Der fliegende Holländer"
Sally Beamish: Viola Concerto No.2 "The Seafarer" (2001) [Japan Premiere]
Prokofiev: Symphony No. 5 in B-flat major, op.100

No.938


Wed. 15 December 2021, 19:00

Sascha GOETZEL, Conductor
Nemanja RADULOVIĆ, Violin

Tchaikovsky: Violin Concerto in D major, op.35
Stravinsky: The Firebird (1910 version)

No.941


Tue. 18 January 2022, 19:00

Martyn BRABBINS, Conductor
Zlatomir FUNG, Violoncello

Walton: Prelude and Fugue "The Spitfire"
Elgar: Cello Concerto in E minor, op.85
Tchaikovsky: Symphony No.6 in B minor, op.74, "Pathétique"

No.944


Mon. 28 February 2022, 19:00

Kazushi ONO, Conductor
Paul LEWIS, Piano

Beethoven: Piano Concerto No.4 in G major, op.58
Shostakovich: Symphony No.10 in E minor, op.93

No.946


Tue. 15 March 2022, 19:00

Eliahu INBAL, Conductor
Alexey ZELENKOV, Baritone
YL Male Voice Choir, Chorus

Rachmaninoff: The Isle of the Dead, op.29
Shostakovich: Symphony No.13 in B-flat minor, op.113, "Babi Yar"
Subscription Concert B Series (Venue: Suntory Hall; 19:00)

No.925


Mon. 26 April 2021, 19:00

Kazushi ONO, Conductor
Mihoko FUJIMURA, Mezzo-Soprano
Naoki MIYASATO, Tenor

Shostakovich: Symphony No.1 in F minor, op.10
Mahler: Das Lied von der Erde

No.928


Tue. 1 June 2021, 19:00

Kazuhiro KOIZUMI, Conductor
Eri NAKAMURA, Soprano
Toru KAKU, Baritone
New National Theatre Chorus, Chorus

Honegger: Symphony No.3, "Liturgique"
Fauré: Requiem, op.48

No.931


Thu. 1 July 2021, 19:00

Alan GILBERT, Conductor
Makoto OZONE, Piano

Pettersson: Symphony No.7 (1967)
Rachmaninoff: Piano Concerto No.2 in C minor, op.18

No.934


Thu. 9 September 2021, 19:00

Marc MINKOWSKI, Conductor

Bruckner: Symphony No.5 in B-flat major, WAB105 (Nowak edition)

No.937


Thu. 21 October 2021, 19:00

Kazushi ONO, Conductor
Mihoko FUJIMURA, Mezzo-Soprano*
Junko SAITO, Soprano**
Andreas Schager, Tenor**
Seth CARICO, Baritone**

Zemlinsky: 6 Gesänge, op.13*
Zemlinsky: Eine florentinische Tragödie, op.16 [Concert Performance]**

No.939


Mon. 20 December 2021, 19:00

Antoni WIT, Conductor
Anna VINNITSKAYA, Piano

Rachmaninoff: Piano Concerto No.3 in D minor, op.30
Penderecki: Symphony No. 2, "Christmas Symphony"

No.942


Fri. 18 February 2022, 19:00

Kazushi ONO, Conductor
Ryoko SUNAKAWA, Soprano
Kasumi SHIMIZU, Mezzo-Soprano
Topi LEHTIPUU, Tenor
The Little Singers of Tokyo, Children's Chorus
New National Theatre Chorus, Chorus

Turnage: Time Flies (2020) [Commissioned by TMSO, BBC Radio3 and NDR Elbphil. Japan Premiere]
Britten: Spring Symphony, op.44

No.945


Mon. 14 March 2022, 19:00

Eliahu INBAL, Conductor
Alexey ZELENKOV, Baritone
YL Male Voice Choir, Chorus

Rachmaninoff: The Isle of the Dead, op.29
Shostakovich: Symphony No.13 in B-flat minor, op.113, "Babi Yar"
Subscription Concert C Series (Venue: Tokyo Metropolitan Theatre; 14:00)

No.927


Tue. 18 May 2021, 14:00

Michiyoshi INOUE, Conductor
Ayana TSUJI, Violin
Yuka ISHIMARU, Organ

Satie: Parade
Saint-Saëns: Violin Concerto No.3 in B minor, op.61
Saint-Saëns: Symphony No.3 in C minor, op.78, "Organ"

No.930


Sat. 26 June 2021, 14:00

Alan GILBERT, Conductor

Bernstein: Overture to "Candide"
Copland: Appalachian Spring Suite for full orchestra
Ives: Symphony No.2

No.932


Sun. 18 July 2021, 14:00

Daniel HARDING, Conductor

Schubert: Symphony No.3 in D major, D200
R.Strauss: Eine Alpensinfonie, op.64

No.933


Sat. 4 September 2021, 14:00

Kazuhiro KOIZUMI, Conductor

Schubert: Symphony No.5 in B-flat major, D485
Tchaikovsky: Symphony No.5 in E minor, op.64

No.936


Wed. 20 October 2021, 14:00

Kazushi ONO, Conductor
Mihoko FUJIMURA, Mezzo-Soprano*
Junko SAITO, Soprano**
Andreas Schager, Tenor**
Seth CARICO, Baritone**

Zemlinsky: 6 Gesänge, op.13*
Zemlinsky: Eine florentinische Tragödie, op.16 [Concert Performance]**

No.940


Mon. 17 January 2022, 14:00

Martyn BRABBINS, Conductor
Zlatomir FUNG, Violoncello

Walton: Prelude and Fugue "The Spitfire"
Elgar: Cello Concerto in E minor, op.85
Tchaikovsky: Symphony No.6 in B minor, op.74, "Pathétique"

No.943


Wed. 23 February 2022, 14:00

Kazushi ONO, Conductor
Yusuke YANAGIHARA, Flute

Debussy: Jeux, Poème Dansé
Nielsen: Flute Concerto
Ravel: Valses nobles et sentimentales
R. Strauss: Der Rosenkavalier Suite

No.947


Sat. 26 March 2022, 14:00

Alan GILBERT, Conductor

Anna Thorvaldsdóttir: Metacosmos(2017)[Japan Premiere]
Bruckner: Symphony No.7 in E major, WAB107
Promenade Concert Series (Venue: Suntory Hall; 14:00)

No.392


Sat. 19 June 2021, 14:00

Tatsuya SHIMONO, Conductor
Mayu OZEKI, Violin

Händel (edited by Baines and Mackerras): Overture from "Music for the Royal Fireworks"
Bruch: Violin Concerto No.2 in D minor, op.44
Borodin: Symphony No.2 in B minor

No.393


Sat. 30 October 2021, 14:00

Kazuhiro KOIZUMI, Conductor
Haruma SATO, Violoncello

Dvořák: Cello Concerto in B minor, op.104
Dvořák: Symphony No.8 in G major, op.88

No.394


Sat. 22 January 2022, 14:00

Kahchun WONG, Conductor
Kohei UENO, Saxophone

Dubugnon: Saxophone Concerto (2021) [Commissioned by Kohei UENO. World Premiere]
Rachmaninoff: Symphony No.2 in E minor, op.27

No.395


Fri. 11 February 2022, 14:00

Osmo VÄNSKÄ, Conductor
Coco TOMITA, Violin

Sibelius: Karelia Suite, op.11
Glazunov: Violin Concerto in A minor, op.82
Sibelius: Symphony No.5 in E-flat major, op.82

No.396


Sat. 19 March 2022, 14:00

Eliahu INBAL, Conductor
Mariam BATSASHVILI, Piano

Bartók: The Miraculous Mandarin Suite, op.19 Sz.73
Liszt: Piano Concerto No.1 in E-flat major, S.124
Kodály: Háry János Suite
TMSO Special

TMSO Special Concert in Nagoya


Sat. 17 April 2021, 14:00 at Aichi Prefectural Art Theater Concert Hall

Kazushi ONO, Conductor

Respighi:Antiche danze ed arie per liuto, III Suite (Ancient Airs and Dances, Suite No.3)
Mahler: Symphony No.1 in D major

TMSO Special Concert in Osaka


Sun. 18 April 2021, 14:00 at Festival Hall

Kazushi ONO, Conductor
Yoshihiro ANDO, Timpani

Kalevi Aho: Timpani Concerto (2015) [Japan Premiere]
Mahler: Symphony No.1 in D major

TMSO Special


Sun. 25 April 2021, 14:00 at Suntory Hall

Kazushi ONO, Conductor
Mihoko FUJIMURA, Mezzo-Soprano
Naoki MIYASATO, Tenor

Shostakovich: Symphony No.1 in F minor, op.10
Mahler: Das Lied von der Erde

TMSO Special


Mon. 19 July 2021, 19:00 at Suntory Hall

Daniel HARDING, Conductor

Schubert:Symphony No.3 in D major, D200
R.Strauss: Eine Alpensinfonie, op.64

TMSO Special "Beethoven's 9th"


Fri. 24 December 2021, 19:00 at Tokyo Metropolitan Theatre
Sat. 25 December 2021, 14:00 at Tokyo Bunka Kaikan
Sun. 26 December 2021, 14:00 at Suntory Hall

Jun MÄRKL, Conductor
TBA, Soprano
TBA, Mezzo-Soprano
TBA, Tenor
TBA, Baritone
Nikikai Chorus Group, Chorus

Beethoven: Symphony No.9 in D minor, op.125, "Choral"

TMSO Special


Sun. 27 March 2022, 14:00 at Suntory Hall

Alan GILBERT, Conductor

Anna Thorvaldsdóttir: Metacosmos(2017)[Japan Premiere]
Bruckner: Symphony No.7 in E major, WAB107