Interview: Joseph Alessi
News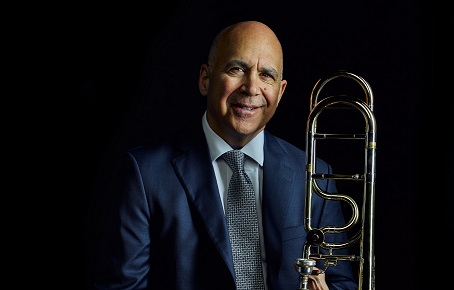 ——Over the years, you've visited Japan many times. Have you worked with any of the Japanese orchestras before as soloist?
First I want to say that it's a great honor for me to perform the Japanese premiere of the Trombone Concerto composed by Chick Corea, one of the greatest musicians and composers on earth. Previously, I've performed the Nino Rota concerto with the Nagoya Philharmonic Orchestra (2008), and the Serocki concerto with the New Japan Philharmonic when I was invited to play for the International Trombone Summit held in Tokyo (1995). This will be the first time to perform with the Tokyo Metropolitan Symphony Orchestra.
My first visit to Japan was in 1981 with Riccardo Muti and the Philadelphia Orchestra, when I played second trombone. That was the first time I had sushi, and a friend of mine showed me all over the place. We visited Nara and Kinkakuji in Kyoto and it was just amazing. Since then, there have been so many trips with different orchestras including the Montreal Symphony and the New York Philharmonic, and with other ensembles. I believe that this could be my fifteenth visit or something like it. In September, I will come to Japan again for the Slide Monsters tour.
——The premiere of Chick Corea's Trombone Concerto was originally planned for June 2021 with the New York Philharmonic, but this was postponed because of the pandemic, and the world premiere took place in August 2021 with the Giancarlo Guerrero and the Sao Paolo Symphony. How did it go?
There was a good audience in Brazil. It wasn't packed because they were still regulations in place, and the orchestra was socially distanced too, which made it really difficult for timing, but it went really well. In April this year, I performed the concerto again with the same conductor and the Gulbenkian Orchestra in Lisbon, where everything was back to normal.
After the Japanese premiere in July, I will perform the concerto again in Helsinki in January 2023, and finally in New York in May. I'm already getting some other inquiries about playing it elsewhere, so there will probably be a few more opportunities. Once New York Philharmonic performance is done, then other people can play it. I know my colleague, Eijiro Nakagawa, is very interested to play it as well. I'm really curious what he does with it because a great improviser like him can open up sections and there are a lot of opportunities for that. So I'm sure that he'll take advantage of that. Also, there is going to be a wind band version, which I will premiere with the University of Las Vegas Wind Orchestra at the Midwest Band Clinic next year.
——When did you first contact Chick Corea about the commission? And what was his initial response?
August 2, 2017, was my first text message to him. At first, he was very cautious —— maybe he had some not so great experiences with orchestras in the past although he had written many works for orchestra. So I assured him that the New York Philharmonic had premiered so many pieces from all kinds of composers and learns them very fast. So he was very happy to hear that. And then he came to visit the Philharmonic and he met all the musicians. At the end, he agreed to do it. The Philharmonic had planned a residency with him in 2021/22 where he kicked off our season, but then the pandemic happened, and then he passed away. So it never happened, which is really tragic. Also there's a really nice piano part in the trombone concerto and Chick was supposed to play that with us in New York.
——Throughout your career, you've commissioned many composers to write new works for trombone. Which works have stayed in the repertoire?
There is William Bolcom's trombone concerto (2008), which I premiered with Alan Gilbert and the New York Philharmonic, and also the Christopher Rouse concerto (1992) which the Philharmonic commissioned for me. A lot of the new works that I've premiered are with wind band, actually.
I've also asked some other well-known composers such as John Williams, John Adams, John Corigliano, John Harbison, and Wynton Marsalis to write a concerto for me. Some of them weren't interested in the first place, and some were too busy – you have to get these people at the right time. But Chick took the plunge. I'm sure that he never thought in a million years that he would write a trombone concerto. But he's such a great musician that he's very flexible. What he wrote is not easy, but I think it sounds really terrific on the trombone. And when I played for him, he could see my strengths and my weaknesses. So he was smart.
——Alan Gilbert will conduct this concerto in Tokyo. Could you tell us about your relationship with him over the years?
Obviously his parents were my colleagues at the New York Philharmonic, so I've known him since he was maybe eleven years old and he was super intelligent. I thought he was a terrific Music Director of the NYP. He was not afraid to conduct any type of music or take on any kind of project, which is something not a lot of conductors can do so easily. He conducted extremely well. Any kind of contemporary piece or long standing piece in the repertoire, it didn't matter what it was, he could conduct it. So he learned things very quickly. And not only that, but he was generally a nice person. It's rare when you can go up to a conductor and just talk about anything. I look forward to when he can come back to New York and do some more conducting.
It will be interesting what he will bring to the Chick Corea concerto, because so far I've only performed it with Mr. Guerrero. I think because we've known each other for so long, it'll be very comfortable to be on stage with him.
——Did you always want to become an orchestral trombone player?
When I started playing the trombone, I was only eight years old, so I didn't understand what it could be used for. But my parents were classical musicians, and my father, who was a trumpet player, had lots of LPs of the Chicago Symphony and the NYP, so I was able to access those recordings and I really enjoyed it. Plus, I grew up in California and my local youth orchestra was so good. I was maybe eleven years old when I first played with the youth orchestra, and we played Shostakovich's Fifth Symphony, and they put me on the first trombone part! And then I got the LP recording of the Chicago Low Brass and that inspired me to go into it further. But a little bit later, maybe a couple of years later, I listened to J.J. Johnson, and I started to listen to jazz. Also, our jazz band was pretty good at high school. So then I tried out for a couple of jazz groups when I was in high school. One group that I tried out for was the Monterey Jazz Festival All Star High School Band. So that was my upbringing with jazz playing.
But it wasn't until recently that I'm really trying to become an accomplished jazz player. I'm playing jazz piano now, studying the solos of great players and also jazz harmony.
——When you got your first orchestral job, did you also think of becoming a solo player at some point?
Yes. I had done several recitals around that time, and I really enjoyed that. When I got into the New York Philharmonic, I got a call to play with an orchestra in Nebraska and I did the Serocki concerto, which is the one I also played at the Trombone Summit in Tokyo, and I really enjoyed that. And everything really took off as a soloist when I made my first CD "Slide Area", and that was distributed around the world. And then I got more calls to do things as a soloist.
——How do you balance the two, the orchestral playing and the solo work?
To be honest, I don't actually think like that. The orchestral playing, the jazz playing, the solo playing, playing in the brass quintet, conducting, teaching lessons at the Julliard, writing and arranging – it's all part of being a musician. I think to be a complete musician, you have to be able to do all those things. But I don't compose, so I have great respect for Christian Lindberg who not only plays but also composes as well.
——What do you find most satisfying about playing the trombone in the orchestra?
Well, we're supporting cast members. We don't play all the time, so a lot of the time we are able to sit back and listen to all these great musicians, and then you come in and join them in a passage or whatever, and sometimes you get something important to play. But when you're all playing together at one time, it's really quite something, like in the third movement of Tchaikovsky's Sixth Symphony where the trombones get their big moment. As a section, we aim to play with a good sound and good balance.
——Who have been your role models as a player?
Well, when I was a young kid, Jay Friedman of the Chicago Symphony was always somebody I looked up to. And my teachers in San Francisco were fabulous: Miles Anderson, who played with Los Angeles Philharmonic came up to San Francisco Symphony, and Mark Warren, my teacher, who had retired from San Francisco. So I studied with all those people in San Francisco, and they were all top players and top teachers.
And then J.J. Johnson, and of course, Urbie Green and Dick Nash – many of my heroes weren't classical. Now when I listen to music, I love to listen to Clifford Brown, the famous jazz trumpet player. And the young players that I think are amazing are Marshall Gilkes and Mike Dease.
——As an orchestral player, have you changed the way you practice as you got older, and what do you do to maintain your condition?
I think I practice more or less the same way. With my warm up, I think I take that more seriously now than I ever have. When you warm up, you want to do the right things, you want to make really good habits so that you are ready from the get go when you first pick up the instrument. So, yeah, I would say that warm up has become more important. And I think spending more time on fundamentals is more important as you get older. I would say doing more flexibility studies is more important as well. As far as endurance and range in concerned, that's better than ever.
Actually, back in November there was a time when I didn't think I would even be able to come to Japan and do this because I had an injury called Bell's palsy, a form of paralysis of the facial muscle. I couldn't play at all for a while, so I had to cancel some engagements, and I was away from the orchestra for three or four months. Fortunately, I was fully recovered, and I was able to give the European premiere of the Chick Corea concerto in Lisbon, which was the first time I had performed since my injury.
So, keeping in mind of what I've been through and also the pandemic, I would just say that to be able to play an instrument and the fact you can enjoy playing, one should really never take that for granted.
——Do you have a message for your fans in Japan?
Any visit to Japan is fantastic, but to do the Japanese premiere of the Chick Corea concerto with Alan Gilbert at Suntory Hall is a great honor. And to play Ravel's Bolero in the orchestra will be great too. It should be a very exciting concert, and I look forward to seeing you all there.
by Nahoko Gotoh (Music journalist)