April 2023 – March 2024 Season Program
News
Kazushi Ono, Music Director, Tokyo Metropolitan Symphony Orchestra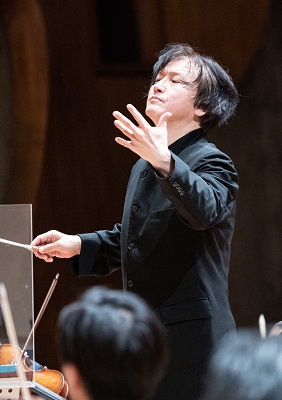 Dear Tokyo Metropolitan Symphony Orchestra subscribers, dedicated music fans, and young people discovering TMSO's music at our concerts for schools: It is my utmost pleasure to announce TMSO's 2023–2024 season calendar.
The challenges the orchestra has faced over the past three years are evident in the new calendar—some of the programs had to be replaced, and visiting conductors and soloists are appearing after long postponements. However, the lineup on the whole conveys the sense of us heading toward new beginnings, something I believe you will truly enjoy.
The new season's first concert conducted by myself (April 13 Subscription B) will present Mahler's Symphony No. 7, the first piece I conducted as TMSO's Music Director. It is deeply significant for me to revisit this work, marked by its cosmic scale and super-dimensional scope.
  The second Subscription Concert (April 21 Subscription A) presents the long-awaited Japan premiere of Time Flies by Mark-Anthony Turnage, which includes "Tokyo Time" written specially for TMSO. Between the Turnage and Elgar's Enigma Variations will be a performance of Lutosławski's Cello Concerto with Michiaki Ueno as soloist. Ueno performed the same work in the final round of the 2021 Geneva International Music Competition to win first prize in cello. The exchange of sparks between soloist and orchestra is not to be missed.
  Our October Subscription Concert (October 14 Subscription C) will commemorate the tenth anniversary of the passing of James DePreist, who was TMSO's Permanent Conductor from April 2005 to March 2008. We have chosen the very same Schumann Violin Concerto performed in the last TMSO concert (December 2009) conducted by the late maestro, soloed as in December 2009 by Isabelle Faust. This intense and highly romantic concerto will be part of a program that also includes Magnus Lindberg's Absence, written in 2020 to mark the 250th anniversary of Beethoven's birth and inspired by motifs and themes from the late great composer's life, and Symphony No. 7, composed by Beethoven himself.
  December Subscription Concerts (December 7 Subscription A; December 8 Subscription C) will spotlight works associated with the symbolist painter Arnold Böcklin in recognition of the 150th anniversary of the births of Reger and Rachmaninoff. Many of you will probably think of Rachmaninoff's Isle of the Dead, inspired by a Böcklin painting of the same title. In the present instance however, we have selected Reger's Four Tone Poems after Arnold Böcklin, in which the composer created music for all four ominous paintings comprising the series that includes the Isle of the Dead. We have paired the Reger with Piano Concerto No. 1 composed by Rachmaninoff in his youth, inviting master pianist Nikolai Lugansky for the performance. Furthermore, Schumann's Symphony No. 4 will complement the early Rachmaninoff and late Reger works with its benevolence.
As ever, TMSO's distinguished resident conductors will be ready to deliver their fascinatingly exciting lineups: Maestro Eliahu Inbal has in store for us Shostakovich's Symphony No. 9, as well as his renowned renditions of Bernstein's Symphony No. 3 "Kaddish" (February 16 Subscription B; February 17 TMSO Special). Most remarkably however, the 88-year-old master will be revisiting Mahler symphonies with TMSO, beginning with Symphony No. 10 edited by Deryck Cooke (February 22 Subscription C; February 23 TMSO Special). I am sure the expression "beginning with" will keep you all on the edge of your seats—please stay posted for further updates.
  Alan Gilbert will be conducting Mozart pieces performed with Stefan Dohr, principal horn of Berliner Philharmoniker (July 19 Subscription A; July 20 TMSO Special). We will all be eagerly waiting to witness how he and TMSO will subsequently make the ascent to Alpine peaks in An Alpine Symphony by R. Strauss. Further treats conducted by Gilbert this season include a Rachmaninoff's Piano Concerto No. 3 performance with world-renowned pianist Kirill Gerstein (July 15 Promenade); and Beethoven's Symphony No. 9 (December 24, 25, 26 TMSO "Beethoven 9" Special).
  Ahead of the upcoming 200th anniversary of Anton Bruckner's birth in 2024, TMSO is planning to commence a series of performances featuring Bruckner works in 2023. Among the planned works is Symphony No. 2 (October 20 Subscription B) to be conducted by Kazuhiro Koizumi, who will no doubt bring his brilliant touch also to the TMSO performance of Prokofiev's Symphony No. 5 (November 24 Subscription A).
Turning to our guest conductors this season, Marc Minkowski will be conducting TMSO for the first time in four years, at long last treating us to his renditions of Bruckner's Symphony No. 5 (June 25 Subscription C; June 26 Subscription B) originally scheduled for September 2021 had it not been for the COVID-19 pandemic.
  Lawrence Renes is a guest conductor becoming increasingly familiar to TMSO. To immerse us in concertos, he will be joined this time by violist Tabea Zimmermann—who could not travel to Japan on the previous occasion back in September 2021—followed by a Rachmaninoff piece (September 23 Subscription C) and a major Prokofiev work (September 18 Promenade).
  Sascha Goetzel, who in April 2022 conducted superb performances of the opera Der Rosenkavalier at the New National Theatre, Tokyo, will be returning to Japan to guest-conduct TMSO for performances of Korngold's highly evocative Sinfonietta, as well as Beethoven concerto performed with charismatic violinist Nemanja Radulović (September 8 Subscription B)—something we can all look forward to.
  Antoni Wit will bring his baton to TMSO's performances of Penderecki, and will be joined by Kyohei Sorita for renditions of Rachmaninoff (December 19 Subscription B), none of which we can afford to miss.
  The program to be guest-conducted by Osmo Vänskä (October 30 Subscription A) simply fills me with excitement—I wish to thank him sincerely for agreeing to conduct Sibelius symphonies Nos. 5, 6 and 7.
  John Adams visiting Japan and conducting TMSO (January 18 Subscription B; January 19 Subscription A) will most certainly make music industry headlines. I have had the pleasure of conducting his works on many occasions, and still remember as if it were yesterday how he took me step by step through each phase of the undertakings. Performing a John Adams work conducted by none other than the composer himself is a rare and privileged experience for TMSO, and I feel genuinely fortunate to be able to present this performance to our audience.
Please look forward to our 2023–2024 season, which I sincerely hope will meet and even surpass your expectations.
April 2023 – March 2024 Season Program
※Performers and Programs are subject to change
(As of October 7 2022)
Subscription Concert A Series (Venue: Tokyo Bunka Kaikan; 19:00)

No.973
Fri. 21 April 2023

Kazushi ONO, Conductor
Michiaki UENO, Violoncello

Turnage: Time Flies (2020) [Commissioned by TMSO, BBC Radio 3 and NDR Elbphil. Japan Premiere]
Lutosławski: Cello Concerto(1970)
Elgar: Variations on an Original Theme, op.36, Enigma

No.975
Fri. 12 May 2023

Kazuki YAMADA, Conductor
The Philharmonic Chorus of Tokyo, Chorus *
Musashino Academia Musicae Chorus, Chorus *
The Little Singers of Tokyo, Children's Chorus **

[Akira Miyoshi 90 | Anti-War Trilogy]
Miyoshi: Requiem for Mixed Chorus and Orchestra(1972)*
Miyoshi: Psaume for Mixed Chorus and Orchestra(1979)*
Miyoshi: Kyô-mon for Children's Chorus and Orchestra(1984)**

No.979
Wed. 19 July 2023

Alan GILBERT, Conductor
Stefan DOHR, Horn

Webern: Im Sommerwind
Mozart: Horn Concerto No. 4 in E-flat major, K.495
R.Strauss: Eine Alpensinfonie, op.64

No.980
Sun. 3 September 2023, 14:00

Sascha GOETZEL, Conductor
Nemanja RADULOVIĆ, Violin

Liadov: Polonaise, op.49 (In Memory of Pushkin)
Tchaikovsky: Violin Concerto in D major, op.35
Tchaikovsky: Symphony No.5 in E minor, op.64

No.985
Mon. 30 October 2023

Osmo VÄNSKÄ, Conductor

Sibelius: Symphony No.5 in E-flat major, op.82
Sibelius: Symphony No.6 in D minor op.104
Sibelius: Symphony No.7 in C major op.105

No.987
Fri. 24 November 2023

Kazuhiro KOIZUMI, Conductor
Inon BARNATAN, Piano

Tchaikovsky: Piano Concerto No.1 in B-flat minor, op.23
Prokofiev: Symphony No.5 in B-flat major, op.100

No.988
Thu. 7 December 2023

Kazushi ONO, Conductor
Nikolai LUGANSKY, Piano

[Reger & Rachmaninoff 150]
Reger: 4 Tone Poems after Böcklin, op.128
Rachmaninoff: Piano Concerto No. 1 in F-sharp minor, op.1
Schumann: Symphony No.4 in D minor, op.120 (1851 Revised version)

No.993
Fri. 19 January 2024

John ADAMS, Conductor
Esmé Quartet, String Quartet*

John Adams: I Still Dance (2019) [Japan Premiere]
John Adams: Absolute Jest (2011) *
John Adams: Harmonielehre (1984-85)
Subscription Concert B Series (Venue: Suntory Hall; 19:00)

No.972
Thu. 13 April 2023

Kazushi ONO, Conductor

Mahler: Symphony No.7 in E minor

No.976
Mon. 29 May 2023

Tadaaki OTAKA, Conductor
Anna VINNITSKAYA, Piano

Rachmaninoff (arr. by Respighi): Études-tableaux, The Sea and Seagulls, op.39-2
Rachmaninoff: Rhapsody on a Theme of Paganini, op.43
Elgar: Symphony No.2 in E-flat major, op.63

No.978
Mon. 26 June 2023

Marc MINKOWSKI, Conductor

[Toward the Bruckner 200]
Bruckner: Symphony No.5 in B-flat major, WAB105 (Nowak edition)

No.981
Fri. 8 September 2023

Sascha GOETZEL, Conductor
Nemanja RADULOVIĆ, Violin

Beethoven: Violin Concerto in D major, op.61
Korngold: Sinfonietta in B major, op.5

No.984
Fri. 20 October 2023

Kazuhiro KOIZUMI, Conductor

[Toward the Bruckner 200]
Brahms: Variations on a Theme of Joseph Haydn, op.56a
Bruckner: Symphony No.2 in C minor (Nowak: 1877 version)

No.990
Tue. 19 December 2023

Antoni WIT, Conductor
Kyohei SORITA, Piano

Kilar: Prelude and Christmas Carol (1972)
Rachmaninoff: Piano Concerto No.2 in C minor, op.18
Penderecki: Symphony No.2, "Christmas Symphony"

No.992
Thu. 18 January 2024

John ADAMS, Conductor
Esmé Quartet, String Quartet*

John Adams: I Still Dance (2019) [Japan Premiere]
John Adams: Absolute Jest (2011) *
John Adams: Harmonielehre (1984-85)

No.971
Fri. 16 February 2024

Eliahu INBAL, Conductor
Judith PISAR and Leah PISAR, Speakers *
Akiko TOMIHIRA, Soprano *
New National Theatre Chorus, Chorus *
The Little Singers of Tokyo, Children's Chorus *

Shostakovich: Symphony No.9 in E-flat major, op.70
Bernstein: Symphony No.3 "Kaddish" (1963)*
Subscription Concert C Series (Venue: Tokyo Metropolitan Theatre; 14:00)

No.974
Wed. 26 April 2023

Kazuhiro KOIZUMI, Conductor
Mayumi KANAGAWA, Violin

Verdi: Overture to La Forza del Destino
Mendelssohn: Violin Concerto in E minor, op.64
Mendelssohn: Symphony No.3 in A minor, op.56, "Scottish"

No.977
Sun. 25 June 2023

Marc MINKOWSKI, Conductor

[Toward the Bruckner 200]
Bruckner: Symphony No.5 in B-flat major, WAB105 (Nowak edition)

No.982
Sat. 23 September 2023
Lawrence RENES, Conductor
Tabea ZIMMERMANN, Viola

Sally Beamish: Viola Concerto No.2, The Seafarer (2001) [Japan premiere]
Rachmaninoff: Symphony No.2 in E minor op.27

No.983  
Sat. 14 October 2023/p>
Kazushi ONO, Conductor
Isabelle FAUST, Violin

[10th Anniversary of death of Maestro James DePreist]
Magnus Lindberg: Absence (2020) [Japan premiere]
Schumann: Violin Concerto in D minor
Beethoven: Symphony No.7 in A major, op.92

No.986
Sun. 12 November 2023

John AXELROD, Conductor
Alina POGOSTKINA, Violin

Valentin Silvestrov: Silent Music(2002)
Sibelius: Violin Concerto in D minor, op.47
Shostakovich: Symphony No.5 in D minor, op.47

No.989
Fri. 8 December 2023

Kazushi ONO, Conductor
Nikolai LUGANSKY, Piano

[Reger & Rachmaninoff 150]
Reger: 4 Tone Poems after Böcklin, op.128
Rachmaninoff: Piano Concerto No. 1 in F-sharp minor, op.1
Schumann: Symphony No.4 in D minor, op.120 (1851 Revised version)

No.991  
Sat. 13 January 2024

Tatsuya SHIMONO, Conductor
Yuya TSUDA, Piano

[Bruckner 200]
Mozart: Piano Concerto No.24 in C minor K.491
Bruckner: Symphony No.1 in C minor, WAB101 (1891 Vienna revision)

No.995
Thu. 22 February 2024

Eliahu INBAL, Conductor

[Inbal / TMSO The 3rd Mahler Series: 1]
Mahler: Symphony No.10 in F-sharp major (Cooke version)
Promenade Concert Series (Venue: Suntory Hall; 14:00)

No.402
Sat. 17 June 2023

Kazuhiro KOIZUMI, Conductor
Clara-Jumi Kang, Violin

Bruch: Violin Concerto No.1 in G minor, op.26
Berlioz: Symphonie Fantastique, op.14

No.403
Sat. 15 July 2023

Alan GILBERT, Conductor
Kiril GERSTEIN, Piano

Nielsen: Helios Overture, op.17
Nielsen: Symphony No.5 op.50
Rachmaninoff: Piano Concerto No.3 in D minor, op.30

No.404
Mon. 18 September 2023

Lawrence RENES, Conductor
Tabea ZIMMERMANN, Viola

Mozart: Clarinet Concerto in A major, K.622 (arr. for Viola and Orchestra)
Prokofiev: Selections from Romeo and Juliet
Romeo at the Fountain/Scene/Morning Dance/Juliet, the Young Girl/Montagus and Capulets/Masks/Romeo and Juliet/Friar Laurence/Death of Tybalt/Romeo at Juliet's before Parting/At Juliet's Bedside – Juliet's Funeral – Juliet's Death

No.405
Sat. 2 December 2023

Naoto OTOMO, Conductor
Kohei UENO, Saxophone
Mari FUKUMOTO, Organ

Saint-Saëns: Le rouet d'Omphale, op.31
Dubugnon: Concerto Heroïque for Alto Saxophone and Orchestra (2021) [Commissioned by kohei UENO. World Premiere]
Saint-Saëns: Symphony No.3 in C minor, op.78, "Organ"

No.406
Sun. 11 February 2024

Eliahu INBAL, Conductor

Brahms: Akademische Festouvertüre, op.80
Beethoven: Symphony No.8 in F major, op.93
Dvořák: Symphony No.8 in G major, op.88
TMSO Special

TMSO Special Concert in Nagoya
Sat. 15 April 2023, 16:00 at Aichi Prefectural Art Theater Concert Hall
TMSO Special Concert in Osaka
Sun. 16 April 2023, 14:00 at Festival Hall

Kazushi ONO, Conductor

Mahler: Symphony No.7 in E minor

TMSO Special(7/14)
Fri. 14 July 2023, 19:00 at Suntory Hall
Alan GILBERT, Conductor
Kiril GERSTEIN, Piano

Nielsen: Helios Overture, op.17
Nielsen: Symphony No.5 op.50
Rachmaninoff: Piano Concerto No.3 in D minor, op.30

TMSO Special(7/20)
Thu. 20 July 2023, 19:00 at Tokyo Bunka Kaikan

Alan GILBERT, Conductor
Stefan DOHR, Horn

Webern: Im Sommerwind
Mozart: Horn Concerto No. 4 in E-flat major, K.495
R.Strauss: Eine Alpensinfonie, op.64

TMSO Special(10/7)
Sat. 7 October 2023, 14:00 at Suntory Hall

Kazushi ONO, Conductor
Mao FUJITA, Piano

Brahms: Piano Concerto No.1 in D minor, op.15
Dvořák: Symphony No.7 in D minor, op.70

TMSO Special "Beethoven's 9th"(12/24)(12/25)(12/26)
Sun. 24 December 2023, 14:00 at Sumida Triphony Hall
Mon. 25 December 2023, 19:00 at Tokyo Bunka Kaikan
Tue. 26 December 2023, 19:00 at Suntory Hall

Alan GILBERT, Conductor
Christina NILSSON, Soprano
Rinat SHAHAM, Mezzo-Soprano
Michael WEINIUS, Tenor
Morris ROBINSON, Bass
New National Theatre Chorus, Chorus

Beethoven: Symphony No.9 in D minor, op.125, "Choral"

TMSO Special(2/17)
Sat. 17 February 2024, 14:00 at Suntory Hall

Eliahu INBAL, Conductor
Judith PISAR and Leah PISAR, Speakers *
Akiko TOMIHIRA, Soprano *
New National Theatre Chorus, Chorus *
The Little Singers of Tokyo, Children's Chorus *

Shostakovich: Symphony No.9 in E-flat major, op.70
Bernstein: Symphony No.3 "Kaddish" (1963) *

TMSO Special(2/23)
Fri. 23 February 2024, 14:00 at Tokyo Metropolitan Theatre

Eliahu INBAL, Conductor

[Inbal / TMSO The 3rd Mahler Series: 1]
Mahler: Symphony No.10 in F-sharp major (Cooke version)