April 2020 – March 2021 Season Lineup
News
The TMSO's 2020 Season Lineup
Kazushi ONO, Music Director, Tokyo Metropolitan Symphony Orchestra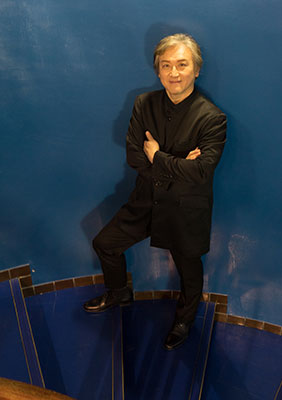 ©Herbie Yamaguchi
Dear subscribers and dedicated supporters:
The Tokyo Metropolitan Symphony Orchestra (TMSO) is delighted to announce its brand-new lineup for the 2020 season.
Upcoming in 2020 are a host of commemorative events including the TMSO's 55th anniversary; the 75th anniversary of the end of World War II; the 250th anniversary of Beethoven's birth; and above all the second Summer Olympic and Paralympic Games to be hosted in Tokyo. As a fitting tribute to this occasion, "Celebration 2020: Music of Prayer, Music of Hope" has been chosen as the overall theme of this season's TMSO program.
In an expression of the joyous spirit of celebration that characterizes this season, I will be conducting, as the TMSO's Music Director, Mendelssohn's Symphony No. 2, "Lobgesang" Mahler's Symphony No. 2, "Auferstehung " and the world premiere of the piece commissioned to Mark-Anthony Turnage in the lead-up to the 2020 Games. And Principal Guest Conductor Alan Gilbert will be conducting Mozart's Symphonies Nos. 39, 40, and 41. The spirit of deep prayer, on the other hand, will be presented in the form of Honegger's "Symphonie Liturgique" conducted by Honorary Conductor for Life Kazuhiro Koizumi; "Babi Yar" conducted by Conductor Laureate Eliahu Inbal; and Akira Miyoshi's Requiem; Psaume; KYÔ-MON conducted by Kazuki Yamada, who will be making his TMSO Subscription Concert debut. Hope for the future will be expressed not only with pieces such as Carl Nielsen's "The Inextinguishable," Elgar's Symphony No. 1, and Brahms's Symphony No. 1, but also with numerous joint performances with next-generation talent such as Jakub Hrůša, who will return to the TMSO for the first time in three seasons; and Klaus Mäkelä, whose debut performance in Japan was with the TMSO back in 2018.
Another fascinating treat in the pipeline is TMSO's project to perform all nine Beethoven symphonies—thereby allowing listeners to compare and contrast them—across our concert series under the direction of seven conductors.
Nothing could be more rewarding to me than to be able to deliver the choicest of choice music to accompany what will be an anniversary-filled year and a landmark year for the TMSO, and share with audience members the deep pleasure of music.
April 2020 – March 2021 Season Programs
"Celebration 2020: Music of Prayer, Music of Hope"
(8. October 2019)
Subscription Concert A Series (Venue: Tokyo Bunka Kaikan; 19:00)

No.902


Tue. 21. April 2020, 19:00

Klaus MÄKELÄ, Conductor

Sibelius: Spring Song, op.16
Sibelius: Finlandia, op.26
Shostakovich: Symphony No.7 in C major, op.60, "Leningrad"

No.903


Fri. 8. May 2020, 19:00

Kazuki YAMADA, Conductor
The Philharmonic Chorus of Tokyo, Chorus *
Musashino Academia Musicae Chorus, Chorus *
The Little Singers of Tokyo, Children's Chorus **

Miyoshi: "Requiem" for Chorus and Orchestra(1971)*
Miyoshi: "Psaume" for Chorus and Orchestra(1979)*
Miyoshi: "KYÔ-MON" for Children's Chorus and Orchestra(1984)**

No.905


Mon. 20. July 2020, 19:00

Kazushi ONO, Conductor
Hidejiro HONJOH, Shamisen

Turnage: Time Flies(Commissioned by TMSO, BBCSO and NDR Elbphil. World Premiere)
Dai Fujikura: Shamisen Concerto (2019)
etc.

No.911


Wed. 11. November 2020, 19:00

Osmo VÄNSKÄ, Conductor
Alina POGOSTOKINA,Violin

Sibelius: "Karelia", Overture, op.10
Sibelius: Violin Concerto in D minor, op.47
Sibelius: Symphony No.3 in C major, op.52

No.915


Thu. 17. December 2020, 19:00

Kazuhiro KOIZUMI, Conductor
Gerhard OPPITZ, Piano

Brahms: Piano Concerto No.1 in D Minor, op.15
Beethoven: Symphony No.5 in C Minor, op.67

No.916


Tue. 12. January 2021, 19:00

Eliahu INBAL, Conductor
Alexey ZELENKOV, Baritone
YL Male Voice Choir, Chorus

Bartók: "The Miraculous Mandarin" Suite, op.19 Sz.73
Shostakovich: Symphony No.13 in B-flat minor, op.113, "Babi Yar"

No.920


Mon. 22. February 2021, 19:00

Kazushi ONO, Conductor
Eri NAKAMURA, Soprano
Mihoko FUJIMURA, Mezzo-Soprano
New National Theatre Chorus, Chorus

Mahler: Symphony No.2 in C minor, "Auferstehung"

No.923


Thu. 25. March 2021, 19:00

Jun MÄRKL, Conductor

Toshio HOSOKAWA: Uzu for Orchestra (2019)
Debussy: Printemps
Brahms: Symphony No.1 in C minor, op.68
Subscription Concert B Series (Venue: Suntory Hall; 19:00)

No.900


Fri. 3. April 2020, 19:00

Kazushi ONO, Conductor
Mao FUJITA, Piano
Ryoko SUNAKAWA, Soprano
Hiroka YAMASHITA, Mezzo-Soprano
Naoki MIYASATO, Tenor
Nikikai Chorus Group, Chorus

Schumann: Piano Concerto in A minor, op.54
Mendelssohn: Symphony No.2 in B-flat major, op.52, "Lobgesang"

No.907


Fri. 31. July 2020, 19:00

Alan GILBERT, Conductor

Mozart: Symphony No.39 in E-flat major, K.543
Mozart: Symphony No.40 in G minor, K.550
Mozart: Symphony No.41 in C major, K.551, " Jupiter"

No.908


Wed. 16. September 2020, 19:00

Kazushi ONO, Conductor
Tatsuya YABE, Violin
Dai MIYATA, Violoncello
Michie KOYAMA, Piano

Beethoven: Triple Concerto for Violin, Violoncello and Piano in C major, op.56
Beethoven: Symphony No.3 in E-flat major, op.55, "Eroica"

No.910


Mon. 12. October 2020, 19:00

Kazuhiro KOIZUMI, Conductor

Brahms: Symphony No.3 in F major, op.90
Honegger: Symphony No.3, "Liturgique"(1946)

No.914


Thu. 10. December 2020, 19:00

Jakub HRŮŠA, Conductor

Dvořák: "The Water Goblin", op.107 B.195
Dvořák: " The Noon Witch", op.108 B.196
Dvořák: "The Wild Dove", op.110 B.198
Dvořák: "The Golden Spinning Wheel", op.109 B.197

No.917


Wed. 13. January 2021, 19:00

Eliahu INBAL, Conductor
Alexey ZELENKOV, Baritone
YL Male Voice Choir, Chorus

Bartók: "The Miraculous Mandarin" Suite, op.19 Sz.73
Shostakovich: Symphony No.13 in B-flat minor, op.113, "Babi Yar"

No.919


Sat. 20. February 2021, 19:00

Kazushi ONO, Conductor
Eri NAKAMURA, Soprano
Mihoko FUJIMURA, Mezzo-Soprano
New National Theatre Chorus, Chorus

Mahler: Symphony No.2 in C minor, "Auferstehung"

No.922


Mon. 15. March 2021, 19:00

Tadaaki OTAKA, Conductor
TBA, Narrator

Takemitsu: Family Tree – Musical Verses for Young People
Elgar: Symphony No.1 in A flat major, op.55
Subscription Concert C Series (Venue: Tokyo Metropolitan Theatre; 14:00)

No.901


Mon. 20. April 2020, 14:00

Klaus MÄKELÄ, Conductor

Sibelius: Spring Song, op.16
Sibelius: Finlandia, op.26
Shostakovich: Symphony No.7 in C major, op.60, "Leningrad"

No.904


Sun. 17. May 2020, 14:00

Kazuhiro KOIZUMI, Conductor

Beethoven: Symphony No.1 in C major, op.21
Dvořák: Symphony No.9 in E minor, op.95 B.178, "From the New World"

No.906


Thu. 30. July 2020, 14:00

Alan GILBERT, Conductor

Mozart: Symphony No.39 in E-flat major, K.543
Mozart: Symphony No.40 in G minor, K.550
Mozart: Symphony No.41 in C major, K.551, " Jupiter"

No.909


Sun. 4. October 2020, 14:00

Thomas DAUSGAARD, Conductor

Langgaard: Sphinx, BVN 37
Beethoven: Symphony No.4 in B-flat major, op.60
Nielsen: Symphony No.4, op.29, "The Inextinguishable"

No.912


Sun. 15. November 2020, 14:00

Osmo VÄNSKÄ, Conductor

Hanson: Symphony No.2, op.30, "Romantic"
Rachmaninoff: Symphony No.2 E minor, op.27

No.913


Sat. 5. December 2020, 14:00

Jakub HRŮŠA, Conductor
Karen GOMYO, Violin

Janáček: Prelude to "From the House of the Dead"
Britten: Violin Concerto, op.15
Tchaikovsky: Symphony No.6 in B minor, op.74, " Pathétique"

No.918


Tue. 19. January 2021, 14:00

Eliahu INBAL, Conductor

Beethoven: Symphony No.6 in F major, op.68, "Pastorale"
Beethoven: Symphony No.7 in A major, op.92

No.921


Sun. 28. February 2021, 14:00

Kazushi ONO, Conductor
Jean-Efflam BAVOUZET, Piano

Saint-Saëns: Danse Macabre, op.40
Bartók: Piano Concert No.1, Sz.83
Kodály: Dances of Galanta
Janáček: Taras Bulba
Promenade Concert Series (Venue: Suntory Hall; 14:00)

No.387


Sun. 12. July 2020, 14:00

Daniele RUSTIONI, Conductor

Verdi: Overture to "Les vêpres siciliennes"
Beethoven: Symphony No.2 in D major, op.36
Respighi: Feste Romane

No.388


Sat. 12. September 2020, 14:00

Kazushi ONO, Conductor
Hidemi MIKAI, Clarinet
Manabu SUZUKI, Viola

Mozart: Symphony No.36 in C major, K.425, " Linz"
Bruch: Double Concerto for Clarinet and Viola in E minor, op.88
R. Strauss: Also sprach Zarathustra, op.30

No.389


Mon. 23. November 2020, 14:00

Kazuhiro KOIZUMI, Conductor
Benjamin BEILMAN, Violin

Glinka: Overture to "Ruslan and Lyudmila"
Tchaikovsky: Violin Concerto in D major, op.35
Tchaikovsky: Symphony No.2 in C minor, op.17, "Little Russian"

No.390


Thu. 11. February 2021, 14:00

Sascha GOETZEL, Conductor
Nemanja RADULOVIĆ, Violin

Beethoven: "Wellingtons Sieg, oder die Schlacht bei Vittoria", op.91
Beethoven: Violin Concert in D major, op.61
Beethoven: Symphony No.8 in F major, op.93

No.391


Sat. 20. March 2021, 14:00

Masato SUZUKI, Conductor
Tomoki SAKATA, Piano

Ravel: "Ma Mère l'Oye", Suite
Poulenc: Piano Concerto
Mussorgsky (arr. by Ravel): Pictures at an Exhibition
TMSO Special
TMSO Special "Beethoven's 9th"
Thu. 24. December 2020, 19:00 at Tokyo Metropolitan Theatre
Fri. 25. December 2020, 19:00 at Tokyo Bunka Kaikan
Sat. 26. December 2020, 14:00 at Suntory Hall

Alan GILBERT, Conductor
TBA, Soprano
TBA, Mezzo-Soprano
TBA, Tenor
TBA, Baritone
Nikikai Chorus Group, Chorus

Beethoven: Symphony No.9 in D minor, op.125, "Choral"