Tokyo Metropolitan SO will perform
Prayer for Ukraine

by Ukrainian composer Valentin Silvestrov

News
 Tokyo Metropolitan Symphony Orchestra is pleased to announce that it will be performing Prayer for Ukraine by Ukrainian composer Valentin Silvestrov to express its solidarity with the people of Ukraine affected by war, and to introduce the country's artistic and cultural richness to audiences in Japan and beyond. The performance will take place as part of the concerts in addition to the program already announced.
 To deliver this performance to a wider audience, the April 22 concert will be made available to view on TMSO's official YouTube channel at a later date. Proceeds from the ticket sales of the concerts will partly go toward Ukraine relief efforts.
 TMSO hopes its performance for peace will reach as many people as possible, and help us unite in our prayers for the people of Ukraine.
 
 
 
Message from Kazushi ONO

Music Director, Tokyo Metropolitan Symphony Orchestra
 Ukraine is the homeland of countless celebrated musicians: The composer Prokofiev; violinists Oistrakh; Milstein; Elman; Kogan; Isaac Stern; pianists Horowitz; Richter; Gilels; Neuhaus, who was also a renowned educator; Cherkassky, who had great many fans in Japan as in the rest of the world; and American conductor Leonard Bernstein, whose parents hailed from Ukraine, to name just a few.
 "That so many of these excellent musicians have historically not been recognized as 'Ukrainian'"is a point made by Elena Dubinets—Russian-born musicologist and Artistic Director of the London Philharmonic Orchestra whose husband happens to be Ukrainian—who argues in one of her industry journal contributions that being dwarfed by Russia has often precluded Ukraine's composers from the full recognition they are due, even in the contemporary era. Valentin Silvestrov, whose work we have the pleasure of performing, is a Ukrainian composer very well-known for his consistent output of energetic, avant-garde work in the 1960s and 1970s.
 From his oeuvre we have chosen Prayer for Ukraine, a 2014 work which seems to portend what we are seeing today. Our thoughts will be with the people of Ukraine, and I hope audiences will join us in our prayers too.      
Event Details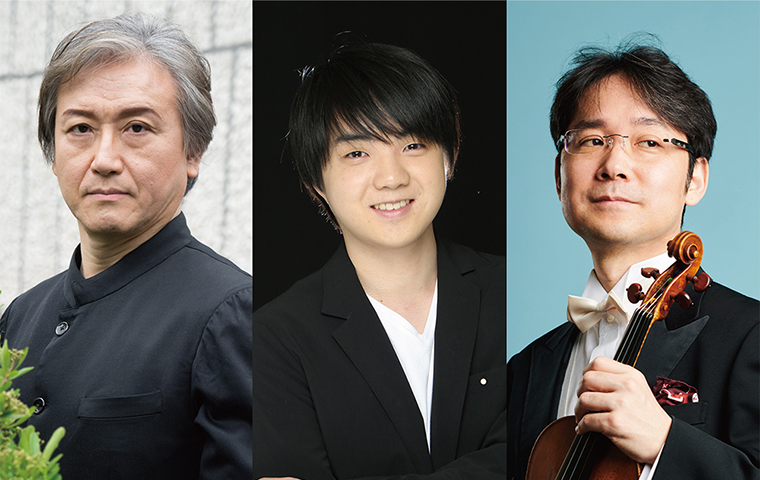 ◆TMSO Special(4/21)
Thu. 21. April 2022 19:00 |Tokyo Opera City Concert Hall
◆Subscription Concert No.948 A Series
Fri. 22. April 2022 19:00|Tokyo Bunka Kaikan
Kazushi ONO, Conductor
Mao FUJITA, Piano
Tatsuya YABE, Violin(Solo-Concertmaster of the TMSO)
Valentin Silvestrov (arranged by Andreas Gies): Prayer for Ukraine (2014/2022)[Japan Premiere]
Schumann: Piano Concerto in A minor, op.54
R.Strauss: Ein Heldenleben, op.40
 
 
 
Program Notes:
Valentin Silvestrov (arranged by Andreas Gies): Prayer for Ukraine (2014/2022)
 Valentin Silvestrov (b. 1937) is a Ukrainian composer born in the nation's capital of Kyiv (Kiev). His initially avant-garde compositional style made way for a highly unique brand of meditativeness during the 1970s. His wide-ranging oeuvre includes symphonies, large-scale choral works, and exquisite gems for strings and piano. He was based in Kyiv from 1970 until early 2022, but since March has been working from Berlin, where he has sought refuge from the Russian invasion of Ukraine.
 Silvestrov witnessed the Euromaidan firsthand, watching the anti-government protests in central Kyiv escalate in February 2014 into uprisings (referred to as the "Revolution of Dignity") that led to bloodshed (as many as eighty civilian deaths, although sources do not agree on the exact number) and the ousting of the pro-Russian then Ukrainian President Viktor Yanukovych. Silvestrov funneled his spirit of resistance into the hymns, elegies, and numerous other pieces of choral music he wrote in response to the events, which were later assembled into the "Maidan cycle of cycles"collection.
 Prayer for Ukraine is one of the works in this collection. About four minutes long and written for mixed choir a cappella, the contemplative harmony with plenty of tonality entreats the Lord in song for the protection of Ukraine, and asks for strength, faith, and hope for its people. The recent crises in Ukraine have inspired two arrangements—an orchestral version by Andreas Gies and an arrangement for chamber orchestra by Eduard Resatsch. Along with the original choral version, the two are being performed all over the world.